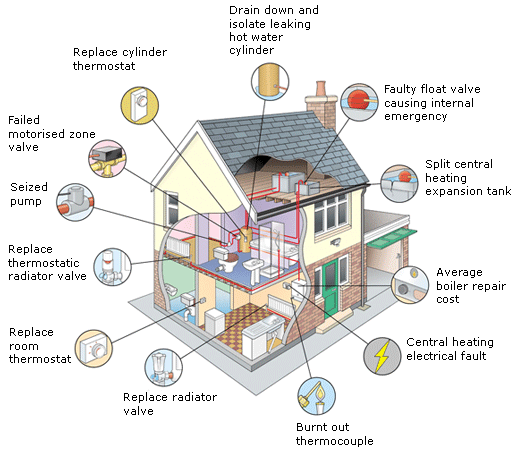 Central Heating Installation Types
Open Vented systems with a Conventional Boiler/Back Boiler
This usually includes a boiler, hot water cylinder in an airing cupboard, big and small water tanks in the loft or top floor and the radiators. Water is heated by the boiler, sent through the cylinder where the heat is given off to the tap water that you draw off in the kitchen or bathroom......
Central heating water is heated by the boiler and diverted to the radiators. This system is open vented as expanding water due to temperature can rise and fall through the open vent in the loft. This is a very common way central heating is installed and works very well if installed correctly.
They are especially good in houses where there are a large number of radiators or showers/bathrooms. If your boiler isn't working then you may have an immersion heater on your hot water cylinder that will provide you with hot water until you get it fixed.

Sealed Systems with a conventional boiler
Sealed systems are very similar to open vented systems but instead of having a small feed and expansion tank in the loft you should have an expansion vessel somewhere on the pipe work or built into the boiler. These are usually red and resemble a large watermelon in size....
These systems must be pressurised using cold water from the mains and usually require a minimum of 1 bar of pressure. They work well as they reduce the chance of air being pulled into the system and reduce the chances of an airlock. Not all boilers can be installed on a sealed system and should be checked with the manufacturer.

Sealed Systems with a Combi Boiler
Combi boilers are a common way of providing hot water and heating as the boiler houses the components to heat both the hot water and central heating. No water is stored as the boiler fires and heats the water on the turn of a hot tap....
These are usually installed in flats and houses with no more than 2 showers/bathrooms. They rely on water pressure from the mains to drive hot water through the taps.

Sealed Systems with a pressurised unvented water cylinder
These are becoming ever more popular. Basically this is a sealed system but with a pressurised water cylinder (common makes include Megaflow, Glow-worm). Mains pressure water is stored in the cylinder and is driven to the taps....
The advantage of these systems is that, with good water pressure coming into the property, one can store a large volume of hot water, serve multiple draw offs under mains pressure where a combi boiler might struggle. These must be installed and notified by a qualified engineer to ensure that the safety features are set up correctly.
_____________________________________________________

When You are happy from our service You can recommend Us on: Facebook or Twitter... THANKS